St-Katharina is a band from Halle, Belgium.
La Guerre Dans Ta Petite Tête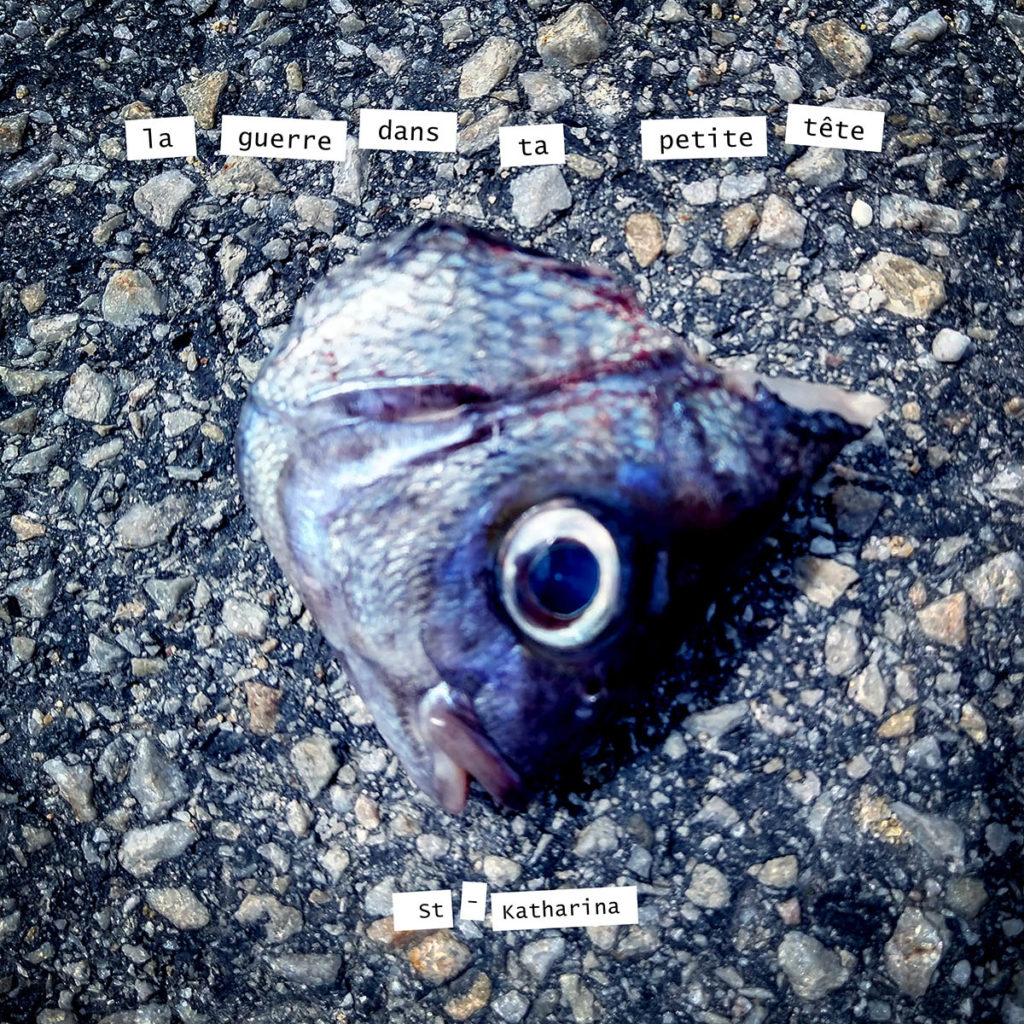 ---
EP, 3 tracks, 8'46''
---
Axel Jacobs (vocals, guitar)
Ann Els De Smet (vocals, bass, cello)
Simon Crombé (drum)
Bieke (guitar, synth)
reviews
"...Black House opent instrumentaal, met zwalpende prog-punk waar een scherpe gitaar doorheen snijdt. La Guerre Dans Ta Petite Tête drijft voort op die klotsende golven, geleid door de zang van een meermin om (uiteraard) in zwaar weer terecht te komen. Een figuurlijke storm in de bovenkamer en we zien het zo vissen regenen. De grote verrassing van deze ep is dan afsluiter Machine. St-Katharina wisselt hier van stem, taal en stemming om de schade van de mentale schipbreuk op te meten en tenslotte te verdwijnen in de nacht. Als dit niet ergens op een soundtrack terechtkomt, gaan we van een schandelijk gemiste kans spreken. Wat een dikke vette aanrader…"
"Through a soundscape of haunting drum patterns, growling bass grooves and dreamy guitar textures, Belgium outfit St-Katharina's sound is born. Their new single La Guerre Dans Ta Petite Tête – taken from their EP – is a haunting affair, complete with a shared vocal delivery that echos their cold and brooding instrumentation. The track's title is loosely translated as 'the war in your little head' and leads the lyrical themes of intimacy, violence and religion."
"A crushing battery, a guitar almost like a police siren, clapping, a whole sound world. Sounds like a big city soundtrack. A halo of madness and the mantra "Je Suis Presque Bien" -I am almost well-. A song to listen to over a linden tea!"
"I wouldn't be shocked if you've never heard of Belgium based outfit St-Katharina, as they hail from the other side of the world and are still fairly new to the music scene. Now I will be shocked if you listen to this new song "Je Suis Presque Bien" and don't immediately love the band and want to know more about them. Sort of a post-punk/noise rock mash up, the song is fast, furious and doesn't mess around with only a little over 2 minutes to get your attention. I for one will be staying tuned as we get more from this group. If you dig it, the band has a full EP from 2018 and another single over on their bandcamp page."
---
---